Did Mooslim Terrorists Attack the Boston Marathon? You Bet Your Ass They Did!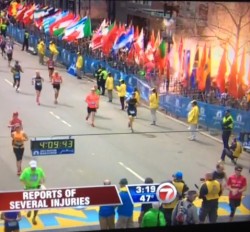 While mainstream news outlets haven't dared to suggest it yet, it's totally obvious to me (and a large percentage of ignorant people in the US and Europe) that Muslim terrorists were responsible for the bombs at the Boston Marathon today. I mean, seriously, who ELSE could possibly have the motive to attack American citizens in the process of exercising (oh cool, a pun!) their divinely and constitutionally-mandated right to run around the streets of America's greatest cities? Everyone knows that Mooslims hate running, and let's not forget that they attacked one of the WTC towers from Boston's Logan airport. COINCIDENCE?? I think NOT!
Don't listen to the boolsheet that some people are spreading that the "gun nuts" did it because they were angry that the Marathon organisers had set up a special marker at the end of mile 26 to honor the Sandy Hook dead. That's NOT true!
Look, it's obvious that the whole "fight them over there so we don't have to fight them here" approach HASN'T WORKED! They ARE HERE, NOW! So come on folks, don't hold back, don't wait for the lamestream media to 'grow a pair' and tell the truth that we all already KNOW (I mean, is 12 years of mind-programming not enough for christ's sake?!). We need to NOOK them out of their spider holes all around the US. Sure, that might cause some collateral damage to Americans, but, ya know, ain't it worth it to protect our Freedumbs and Dimocrazy??
Until then, grab your guns (before they're taken away by that foreign interloper in the White House) and let's go git them thar Mooslims! We've had enough already!! You heard it first here.