Fireballs in the Sky – Wild Fires In Winter – Funding al-Qaeda in Syria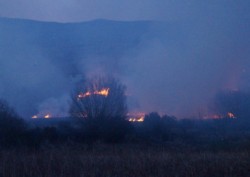 Two items that are indicative of the fact that we now live in a 'black is white', up is down, and Maggie Thatcher  was a 'great stateswoman rather than a vile psychopath', reality.
First item: the rather bizarre fact that, over the past 2 weeks, there have been hundreds of intense and widespread wild fires in Western Scotland, Western England, Western Wales and Western Ireland. Here's a small selection of recent reports.
April 10th, 2013

April 9th, 2013

Firefighters have spent the night tackling 20 grass fires across the South West Wales region

April 8th, 2013

Fires blazed across counties Galway, Mayo and Sligo over the weekend, with all parts of Co Galway affected

April 6th, 2013

A "massive" gorse blaze has erupted near Okehampton in Devon, covering six square kilometres (1,482 acres) of moorland.

April 4th, 2013

a "tireless, prolonged and intense" battle against blazes which have spread rapidly across the Highlands and islands.
The official explanation for the fires, some of which are being called "the worst in 30 years", is either landowners doing "controlled burns" of their land or 'young people' deliberately setting them. As yet however, there has been no influx of farmers or landowners reporting that their "controlled burns" got out of control, and there has been no explanation as to why the youth of Scotland, Wales and Ireland have all suddenly decided to start hundreds of fires at the same time.
In an apparent effort to normalise the situation, the BBC decided to call late March/early April in these areas "wildfire season".
Wildfires are common in places like California, where it is generally dry and sunny for much of the year, but the Western coasts of the UK and Ireland!? I can't think of a wetter place in Northern Europe, especially in recent years. Generally speaking, there is little tree cover in the areas that have been set alight with various grasses, gorse and heather dominating the landscape, which are all synonymous with boggy, peaty land fairly well saturated with water.
Even more perplexing is the fact that many of these fires occurred during, or in the immediate aftermath of, major snowfall and freezing temperatures over much of the UK and Ireland. Since when is frozen ground, rain and snow, or snow-melt, conducive to raging wildfires, regardless of whether the fire-starter was a mischievous youth or mother nature? At least the Irish Minister for Agriculture had the decency to admit that there was no information on the source of most of the fires.
So what's the deal here? Well, coincidentally, during the 2-3 week period of the fires, several meteorites/fireballs were seen over large areas of the UK (not to mention large areas of the entire planet). Now, I'm not necessarily suggesting that meteorite fragments hitting the ground caused these fires, but meteorites have been known to cause other notable effects, specifically electrical effects, that could offer a more plausible explanation to the origin of some, or most, of the wildfire outbreaks over the past few weeks.
So, while the official natural causes of wildfire ignitions are lightning, volcanic eruption, sparks from rockfalls, and the mysterious "spontaneous combustion", it seems to me that a fifth needs to be added (or maybe we can just amend "sparks from rockfalls" by adding the word 'heavenly' before 'rockfalls'.
As for the second item; I think the titles and summaries of two articles will suffice:
The leader of the al-Nusra Front, a jihadist group fighting in Syria, has pledged allegiance to the leader of al-Qaeda, Ayman al-Zawahiri.
and
President Barack Obama has signed off on a new package of nonlethal aid for Syrian rebels, U.S. officials tell CNN, signaling his administration is cautiously wading further into the conflict.
Other than providing evidence that we really do live in a make-believe modern world where the truth is nowhere to be found (except on this blog and Sott.net), and reality is what the established authorities say it is, wild fires and 'al-qaeda' have been linked before in a more direct way. From an article I wrote with Niall Bradley last year:
Compounding our suspicion that the US government is racing to put out more than just forest fires is this impeccably timed dispatch from the official 'al Qaeda magazine' Inspire, in which the CIA's favourite 'terrorists' called for jihadists of the world to "torch forests as part of the Islamic war against the West." The Department of Homeland Security apparently had their story planned in advance, claiming that for more than a decade "international terrorist groups and associated individuals have expressed interest in using fire as a tactic against the Homeland to cause economic loss, fear, resource depletion, and humanitarian hardship." Pretty coincidental, eh? Those 'al-qaeda' terrorists really are very useful.