American Ambassador To Libya Reaps What His Masters Sowed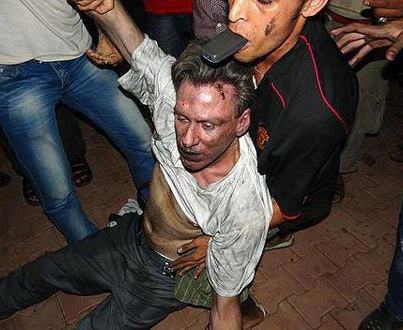 As the US envoy to the "Libyan opposition" during the Libyan "revolution", former US ambassador to Libya, Chris Stevens, oversaw the dismemberment of the prosperous and developed Libyan society that existed  under Gaddafi. Stevens' masters in Washington and Langley, Virginia, were the main financiers of the "Libyan opposition", a gang of paid mercenaries from other African nations. When the Libyan army was eventually defeated by these mercenaries, with the help of 11 months of NATO bombing of all major Libyan cities (and the murder of 40,000 Libyan civilians) Chris Stevens and his friends installed a select few of these mercenaries as the new Libyan government. Despite these facts, the US government, and that foul witch Hilary Clinton, have the effrontery to be surprised and "appalled" that Stevens and a few CIA agents were killed by Libyans angry at the destruction of their once proud nation.
Go figure.
One result of the 11 month NATO bombing of Libya was thousands of former Libyan army soldiers with no job and a serious grudge against the USA. So let's get real here, which is more likely: that the attack on the US embassy in Libya was the work of Libyans incensed at a badly dubbed, US-made film that mocks Islam, or that it was a well-planned act of revenge by former members of the Libyan army (specifically the 'Khamis Brigade) against the representative of the country that led an attack that killed 40,000 Libyan civilians and soldiers, and installed a pro-Western government that is entirely unrepresentative of the Libya people.
There was also a bit of a to-do over the following statement issued by the US embassy in Cairo, which was also the scene of protests over the last two days:
"The Embassy of the United States in Cairo condemns the continuing efforts by misguided individuals to hurt the religious feelings of Muslims — as we condemn efforts to offend believers of all religions," the statement said, apparently in response to a vitriolic video mocking Islam that was promoted by anti-Muslim Florida pastor Terry Jones. "Today, the 11th anniversary of the September 11, 2001 terrorist attacks on the United States, Americans are honoring our patriots and those who serve our nation as the fitting response to the enemies of democracy. Respect for religious beliefs is a cornerstone of American democracy. We firmly reject the actions by those who abuse the universal right of free speech to hurt the religious beliefs of others."
Apparently, some American senators and congress…eh… people, view the Cairo embassy statement as an apology to the protestors. If it WERE that, I'd applaud it, but what it clearly is, is the words of a group of Americans in the embassy in Cairo who were freaking out and willing to do or say anything to make sure they got to see their families again.