Muslims Don't Need a Badly Made Film Mocking Mohammed to be Incensed at the USA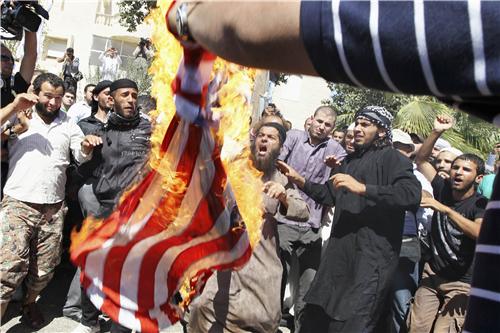 Western governments and the Western media would love for the entire world to believe that the recent (and ongoing) attacks on US embassies in the Middle East, and the killing of the US ambassador and 3 CIA agents in Libya, are motivated solely by the publication of a poorly made 'film' that had been doctored to 'insult' Islam and Mohammed. This narrative pitches Muslims in general as simple-minded fanatical barbarians, ungrateful for all that Western governments have done for them, and attempts to convince the average Westerner that the only thing Muslims understand is force.
Yet simple logic, and an understanding of the Western imperial agenda, exposes this argument as puerile and deceptive in the extreme. To listen to the media whores and government sock puppet experts, you could be mistaken for thinking that Muslims have never protested against the US and Western governments except in cases where a film mocking Mohammed was published.
Which is more likely; that Muslims across the Middle East would be incensed at a badly dubbed film that mocks Islam, or Muslims across the Middle East would be incensed at the fact that:
The US and NATO countries last year bombed Libya, killed 40,000 civilians, and installed a pro-Western government that is entirely unrepresentative of the Libya people.
That the US government has been using drones to massacre civilians in Yemen and Afghanistan on a regular basis of for the past 5 years
That for the past 18 months the US government has been financing and arming mercenaries in Syria that have murdered at least 20,000 civilians and destroyed much of the infrastructure of the country.
That for several decades the US and Western governments supported (and continue to support) corrupt and brutal regimes in Saudi Arabia, Bahrain Qatar, Tunisia, Egypt, and several other Middle Eastern countries, regimes that regularly brutally suppressed (and continue to brutally suppress) any popular protest movements.
That almost ten years ago the US military invaded Iraq, a sovereign nation, without justification or cause, and proceeded to murder over 1.5 million Iraqis and completely destroy Iraqi society.
That for several decades the US and Western governments have been making it possible for the Israeli government to create an apartheid state in Israel/Palestine and to regularly murder Palestinian civilians.
That for at least 20 years, the US and Western governments have sought to demonise and physically attack Lebanon's Hizb'allah, a political party that stands against Western and Israeli hegemony in the Middle East and represents a large percentage of the Lebanese population.
In the end, it comes down to a choice; to believe Western and Israeli government propaganda that all Muslims are little more than animals and potential terrorists, or that they, like all normal human beings, can only stand so much oppression and brutality before they decide to fight back.
What we are dealing with here is an unconscionable double standard that not only incenses Muslims, but should incense all right-thinking, decent people the world over. Obama recently declared that the 'U.S. won't tolerate efforts to harm Americans', yet the right to not tolerate efforts by the US to not only harm them but overthrow their governments and destroy their societies and cultures is denied to the citizens of Middle Eastern countries.