Sandy Hook and Christopher Rodia – Most 'Conspiracy Theorists' Can't Think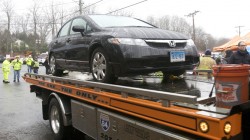 Apparently many alternative news pundits and Sandy Hook conspiracy theorists are still fixated on the idea that a man named Christopher Rodia was the REAL owner of the black Honda Civic that has been identified as the car of Adam Lanza's mother and which was found outside the Sandy Hook elementary school. The basis for this erroneous belief is police scanner audio that was picked up from the morning of Dec. 14th and details Connecticut State Police response to the massacre.
I obtained the original audio files from Radioreference.com. I had to pay a small sum for the full files. I have listened to them, and it is pretty clear that it is rather unlikely that the aforementioned Christopher Rodia had anything to do with the Sandy Hook massacre, even if his name and DOB is mentioned in the audio. This doesn't seem to dissuade the conspiracy nuts though. In fact, it just makes them even nuttier.
What so many of these nutty people have apparently missed is the fact that the audio files clearly contain police communications about MORE than just the Sandy Hook event.
In the audio streams there are several communications from Connecticut State police who are clearly not involved in the response to Sandy Hook and are just out there doing their 'normal' jobs of stopping people for no reason and catching speeding drivers.
The Connecticut State police scanner audio from the morning of Dec. 14th 2012, as provided by Radioreference.com, begins at 9.34am and lasts for one hour until 10.34am i.e. it begins at about the time Lanza is said to have entered the school and lasts for one hour.
Below I will provide all relevant excerpts from this hour of audio, with my comments, which include the, now infamous, references to the license plate of Nancy Lanza's car and to Christopher Rodia.
If you wish to download this audio (which is split into two half hour files, you can do so here (first part) and here (second part). Right click and 'save as' to your computer.
First audio segment: 9.34am – 10.04am
At 00:15, an officer refers to an "apartment door" and says "he is not responding to me verbally" (this probably has nothing to do with SH).
At 1:55 an officer seems to be reading out an license plate and refers to a 'Camry' which is likely to refer to a Toyota Camry car.
At 4:28 a female officer says "we're outside waiting for the ok to go in" (This may be the first reference to SH)
At 5:15 the same female officer says "it's now in lock down" (This is most likely a reference to SH)
At 6:15 a female officer says: "Dickenson drive, 12 Dickenson drive" (this appears to be both the address of the fire house at the entrance to the SH school driveway which was the designated staging area AND the address of SH school itself).
At 6:20 an officer says: "car is responding the shooter is apparently still shooting in the officer area 12 Dickenson drive."
At 6:47 an officer says: "personnel take exit 10 then a left on 34 then continue on riverside road, Dickenson drive, make sure you have your vest on."
For the next few minutes there are various communications that seem to relate to officers arriving at SH school. At 8:39 for example an officer asks for "directions again please" another officer then gives the same directions to SH school for officers arriving from some distance away that are clearly NOT familiar with the area. That is to say, they are out of town CT. State Police.
At 9:18 an officer says "I have Newtown on the line yet"
Another officer responds: "Get Newtown on the line so we are coordinating with them they may just want us to establish a perimeter".
At 10:45 more instructions are given about which exit to take and how to get to SH school. These are clearly not the communications of police that are familiar with the area. That is, they are not Newtown police.
At 11:49 an officer calls out a license plate "X-ray Libra Golf, 941"
Then at 12:15 we hear a female officer or dispatcher say: "We've got an injured person in room number 9 with numerous gunshot wounds"
Between 13 and 14 minutes, more descriptions of how to get to SH are given.
At 15:00 an officer says "negative on description, ok, shots were fired about 3 mins ago, quiet at the time."
Then there are more descriptions of how to get to SH School.
At 17:30 an officer says: "can you swing down here and get us a pink slip for his toll form please?" (this sounds like a communication that is NOT related to SH).
At 18:18 an officer says "do you have a case number on this"? (see above)
A female responds "number is 18264" (see above)
At 18:38 an officer says "no violation, just the same kind of complaint from yesterday that he forgot the…" (see above).
At 19:15 an officer says "Newtown's reporting one suspect down, the building has now been cleared" (clearly a reference to SH)
At 20:23 an officer says "Dickenson 91 in the liberty way parking lot, reported no injuries but possible side airbag deployed" (clearly NOT a reference to SH, but keep remember 'liberty way')
At 20:45 another officer says "… motor vehicle stop…" (do I need to say it?)
At 21:58 another officer says "same location 544 Xray Charlie Lima Connecticut 40"
At 22:47 another officer says "got a speed limit sign down"
At 25:13 more directions are given to police officers who are arriving to the scene of the SH shooting.
At 26:24 an officer says "33 headquarters, motor vehicle stop" the same officer repeats "motor vehicle stop"
Immediately after this a female voice says "12 Dickenson drive, Dickenson drive"
At 27:00 the same voice that said "33 headquarters, motor vehicle stop" at 26:24, says: "722 VHA, radar"  (clearly NOT a reference to SH)
At 28:56 an officer says: "street, near a park, connected trailer V87 278 unsecured load" (clearly NOT a reference to SH)
For the next few minutes there are intermittent police communications that appear to be about the SH response.
Segment ends 30:32
Second audio segment 10.04am – 10.34am
At 1:20 a female (possibly a dispatcher) says: "please respond, liberty way […] (see reference to 'liberty way parking lot' in first segment above).
At 1:39 an officer says "Connecticut 872 Y Yankee, E Echo, O Oscar, 872 YEO possible suspect vehicle." (this is the license plate of the car of Nancy Lanza, the mother of Adam Lanza).
At 2:04 an officer with a deep voice, clearly NOT the officer that made the previous 872 YEO license plate report, says: "run the eh… operator, he's a Florida license Connecticut as well, first name is Rodia, R-O-D-I-A, Christopher A. Date of birth is, eh…August 6th '69."
For the next 8 minutes there are various communications all of which appear to refer to SH, people being evacuated, staging areas and more directions for CT. State Troopers who are still arriving.
Then at 10:15 an officer says: "665 YRG" this could well be yet another call from a CT. State Trooper who is NOT at SH but is still out on normal patrol and is calling in a license plate.
At 11:34 and for the next few minutes we have yet more directions about how to get to SH school.
At 15:34 an officer says: "we have big furret? Connecticut 258 Yankee Yankee Hotel, 258 YYH, Laser."
For the next 6 or 7 minutes the transmissions are all about SH and the staging areas etc. and people coming out of the building.
At 22:02 an officer says: "763 Zula Rima Julliet, 763 TLJ Lucifer."
At 22:36 what sounds like the same officer says: New Jersey plates, a couple of occupants, eh…not sure where exactly on stoneway, I got cut off on the caller…"
At 25:12 what sounds like the same officer says: "Fat van? near 55 stoneway when you're ready. Jersey, Charlie 6 6 Bravo SS, New Jersey, Charlie 66 Bravo Sierra Sierra, there'll be a few males in the van…"
27:10 an officer says: "Ford Econoline, eh registered to the Courier car rental out of Wayne new Jersey."
Another officer responds, the occupants are out of state they're doing a documentary on owl(?) hunting in Canaan (?)
The rest of the audio refers mainly to the SH police response.
The two communications in bold above are what have caused the erstwhile conspiracy theorists to get their knickers in a twist. They claim that, together, the comments constitute 'clear evidence' that Christopher Rodia owned Nancy Lanza's car. But, taken in context, i.e. that both communications are part of a continuum of Connecticut State police communications on the morning of the SH shooting that include State Police responses to the shooting AND things like traffic stops by police who are NOT involved with the response to the SH shooting, and that both types of communications are naturally interspersed…well the rational conclusion then is that Rodia was just one of several people who were stopped in their cars by a CT. State police officer somewhere nowhere near Sandy Hook school.
As evidence that some of the State police communications were coming from pretty far afield and had nothing to do with Sandy Hook; the reference to "Liberty way parking lot" in the audio most likely refers to Liberty way parking lot in Greenwich CT. which is 45 miles from Sandy Hook. The word 'Greenwich' is also spoken by a dispatcher in the above audio, although I didn't include it here. If you want to hear it you'll just have to listen to the audio yourself. If you do, you'll be among a select few individuals who have actually bothered to listen to the audio, unlike the legions of SH 'conspiracy theorists' who prefer to pull theories out of their backsides rather than engage in serious research and, in doing so, make anyone trying to honestly investigate the SH shooting look like a nutjob. People like Brendan Hunt appear to fall into this category.
If you'd like some further evidence that Rodia is unlikely to be the owner of the Honda Civic, here is a copy of his consolidated property tax statement, showing that he does not own a Honda Civic. If he did, it would be on this statement.
Therefore, I'd appreciate it if someone could explain to me how a cop at SH school could receive Rodia's details from the car license plate 872 YEO when Rodia doesn't own a car with that license plate.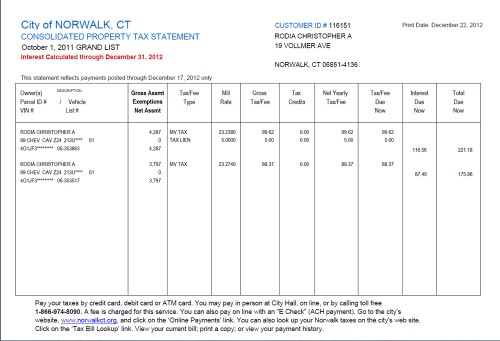 And just for good measure, here's the consolidated property tax record for his wife (or maybe it's his sister, I can't remember now). Oh look! She doesn't own a Honda Civic either: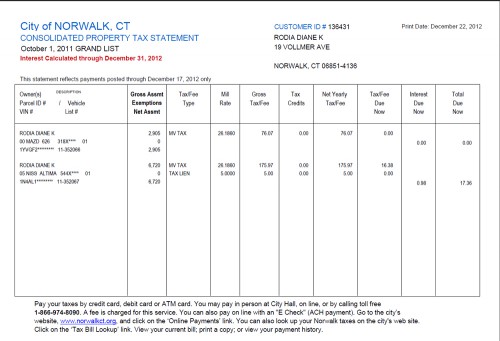 See here for a larger version.
Will the bullshit artists quit their yapping and spreading of disinfo now? Unlikely. It's a nutjob's job to spread disinfo and ignore facts.