'Pussy Riot' – A Grotesque Creation of the US State Department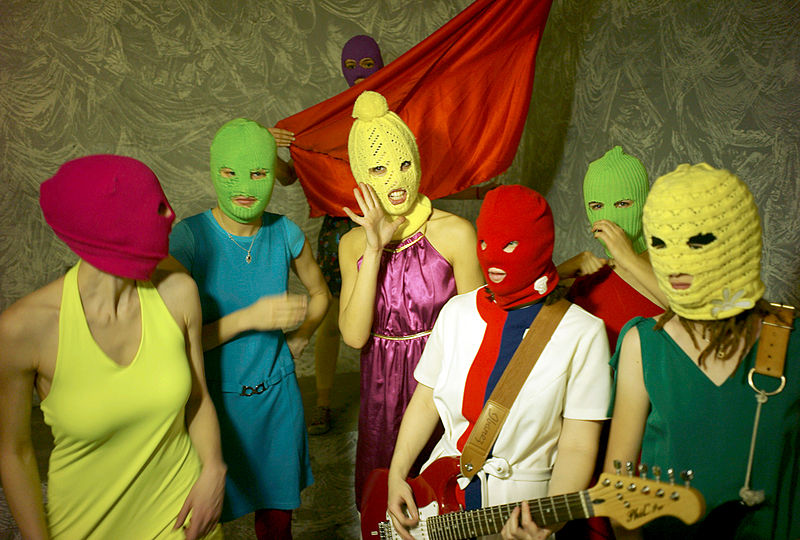 When the US government sanctioned the beating and arrest of US citizens for swaying from side to side in the Jefferson Memorial a couple of years ago, it provoked no response from the Western media (and therefore the Western zombie-citizens who rely entirely on the media for their 'opinions'). Yet the Russian government, sorry, 'Putin' (because everyone knows Putin is a dictator, right?) is broadly denounced as a 'tyrant' by these same Western zombies (again because their 'outraged opinion' was deftly inserted into their brains by the Western media) for putting a stop to the ugly spectacle of deranged Russian women sticking chickens up their nether regions in supermarkets, daubing outlines of phalli on bridges, staging  lewd events in a museum and cavorting around like retards in Russian Orthodox churches as part of their 3 year long international attack on the Russian government.
Disconnect? For sure, but, like I said, don't expect any logic from the collective mind of the citizens of Western zombie nations. All you can hope to do is understand the psychopathic logic of Western governments and the way it infects the minds and manipulates the emotions of Western citizens.
'Pussy Riot', or 11 Russian women between the ages of 20-33, has received direct support from the US state department and appears to be one aspect of the US government's decade-long attempt to undermine Russian society and its president Vladimir Putin. Pussy Riot appears to be funded, in part, by the US government and George Soros, albeit by an indirect route. Oksana Chelysheva is the coordinator of Pussy Riot's support campaign in Finland  but she is also a member of the steering committee of the EU-Russia Civil Society Forum (CSF).  The CSF was established in Prague in 2011 with the help of the Open Society Fund Prague which is funded by George Soros. Chelysheva also Deputy Executive Director of the Helsinki-based Russian-Chechen Friendship Society, which is directly funded by the National Endowment for Democracy. So at least in Finland, Pussy Riot's coordinator is a high-level member of several 'open society' organisations that receive funding from either the US government or George Soros.
For the last 30 years the US state-department has created and used phony NGOs in many countries as an advance guard for 'regime change'. Funneling $billions into 'student' and 'activist' groups in foreign countries, the US government attempts to carefully prepare the local population for 'revolution' that is not of their making and has nothing to do with improving their lot (if indeed it needs improving) and everything to do with getting rid of a, usually democratically-elected, leader of a sovereign country because, in one way or another, he or she refuses to roll over and play dead for 'pax americana'.
Even the name 'Pussy Riot' strongly suggests that this band of nihilists has always viewed the English-speaking world as their main audience. If informing the Russian people about problems in Russian society was their main goal, surely a Russian name would have been top of their list of requirements. But that's not the job with which these self-described 'Trotskyists' were tasked. Their job is to provoke a reaction from the Russian government which can then be used by Western governments and media to launch an 'anti-Putin' propaganda offensive to prepare the ground for a plausibly 'popular uprising' against the Russian government. As we have seen recently in Ukraine, foreign governments can be 'legitimately' overthrown by a relatively small group of Western government-backed protestors without either the input or support of the vast majority of the population of the host nation.
Before 2 members of this contrived, idiotic, nihilist grouping were sentenced to 2 years in prison in 2012, as part of their defence they called Russian opposition party leader Alexey Navalny. Alexey Navalny, who said he is acquainted with one Pussy Riot member, is a Russian lawyer and blogger and ardent opponent of Putin. In 2006 he began to be financed by the U.S. National Endowment for Democracy (NED) for a youth debating project called DA!, which he launched together with Maria Gaidar. Later he was a Yale World Fellow, which is to say, a paid-up (or rather, paid) member of Yale University's efforts, on behalf of the CIA, "to build a network of emerging global leaders" by bringing them to Yale for indoctrination into the 'regime change' way of life.
In 2012,  Navaly was accused of embezzlement in Russia in conspiring to steal timber from a state-owned company in 2009. Bizarrely, in April 2013, a Los Angeles law firm, Loeb & Loeb LLP, issued "an Analysis of the Russian Federation's prosecutions of Alexei Navalny", a paper detailing Investigative Committee accusations. The paper concluded that "the Kremlin has reverted to misuse of the Russian legal system to harass, isolate and attempt to silence political opponents".
On 18 July 2013, Navalny was sentenced to five years in jail for embezzlement. A variety of countries and international organizations condemned the verdict. United States Department of State Deputy Spokesperson Marie Harf stated that the US was "very disappointed by the conviction and sentencing of opposition leader Aleksey Navalniy." The US Ambassador to Russia, Michael McFaul, followed up by stating that the trial had "apparent political motivations". A spokesperson for European Union High Representative Catherine Ashton said that the outcome of the trial "raises serious questions as to the state of the rule of law in Russia. Such responses from the US and the EU are to be expected given the time and effort they had invested in Navalny in an effort to get rid of Putin and neutralize Russia as a bulwark against US domination of the entire globe. In the end, Navalny appealed and was released in a ruling that was said to be "unprecedented" by legal experts in Russia.
The 1975 Senate Church Committee's investigations into the illegal activities of the CIA, NSA etc. revealed that the CIA et al. had been involved in assassinations, spying on American citizens, covert attempts to subvert foreign governments etc. etc. Rather than stop these activities, the CIA and NSA decided to hand them off to public organisations that would act as fronts so that the same illegal activities of the CIA could continue.  One such organisation was the NED, established in 1983.
NED President Carl Gershman said in 1986:
It would be terrible for democratic groups around the world to be seen as subsidized by the CIA. We saw that in the 60's, and that's why it has been discontinued. We have not had the capability of doing this, and that's why the endowment was created."
The NED was therefore created to "support freedom around the world" by taking over that part of the CIA's job that pertains to the initial destabilization of the foreign government through the creation and funding of 'opposition' groups and staging protests and 'revolutions'. If ever there is a need for the formation of an armed paramilitary group to deal with the most resistant foreign governments, the CIA is still there to fulfill that role. Take a look at the NED's board of directors. You'll find several members of PNAC, former Goldman Sachs chief, IMF chief and Bush insiders, Robert Zoellick, Bush era Ambassador to Iraq and Afghanistan, Zalmay Khalilzad, and many other US government 'think tank' and multinational corporate cronies. To get a good idea of who the NED really serves, consider this a visual representation of the corporate ties of the group's board of directors:
Incidentally, on August 17, 1975 Senator Frank Church of the aforementioned Senate Church Committee, referred to the threat from the growing power of the NSA on NBC's Meet the Press:
In the need to develop a capacity to know what potential enemies are doing, the United States government has perfected a technological capability that enables us to monitor the messages that go through the air. Now, that is necessary and important to the United States as we look abroad at enemies or potential enemies. We must know, at the same time, that capability at any time could be turned around on the American people, and no American would have any privacy left such is the capability to monitor everything—telephone conversations, telegrams, it doesn't matter. There would be no place to hide.

If this government ever became a tyrant, if a dictator ever took charge in this country, the technological capacity that the intelligence community has given the government could enable it to impose total tyranny, and there would be no way to fight back because the most careful effort to combine together in resistance to the government, no matter how privately it was done, is within the reach of the government to know. Such is the capability of this technology.

I don't want to see this country ever go across the bridge. I know the capacity that is there to make tyranny total in America, and we must see to it that this agency and all agencies that possess this technology operate within the law and under proper supervision so that we never cross over that abyss. That is the abyss from which there is no return
39 years later, guess where we are.