No question about it: US Government sends weapons to ISIL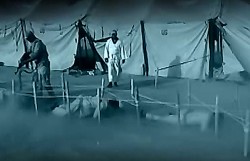 When pondering the genesis of modern wars, both big and small, and who is responsible, it's useful to look to the source of the instruments of war, because after all, without them, having a nice war would be difficult, unless soldiers were willing to go back to hand to hand combat.
7 of the top 10 arms manufacturers, who produce and sell 60% of all weapons, are US companies, the other three are European. The other 40% is also dominated by US, European and Israeli companies.
Where does "ISIL" get its weapons from? Well, everybody knows that! Saudis Arabia and Qatar, it has even been reported by the mainstream media!
But there's a small detail that is always left out of such Western media reports; neither Saudi Arabia nor Qatar (or any other corrupt Gulf monarchy) have significant weapons industries. Both buy the vast majority of their weapons from…you guessed it! the USA!
So I hope everyone understands that the US government is, indirectly via gulf states, arming ISIL and then going to war to 'disarm' them of the weapons they sent to them and left for them in Iraq… and then selling more weapons to them…and on it goes.
War is, and always has been, a racket, designed to do three main things:
make money for the 'elite'
expand empire
keep the population afraid and therefore supportive of their warmongering 'elite' masters