"Russian threat" to USA masks real threat from awakened humans to psychos in power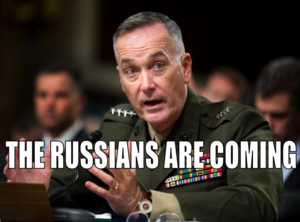 The United States Senate confirmed General Joseph Dunford as the next Chairman of the Joint Chiefs of Staff this week. Dunford is just the latest in a long line of paranoid, delusional 'reality makers' to occupy the top military office in the USA.
In his confirmation hearing, Dunford told the Senate committee, "Russia presents the greatest threat to our national security". When pressed to expand on this, the general cited Russia's "alarming" behavior and said it poses "an existential threat to the United States". Someone should tell this guy that saying the same thing with different words does not constitute an explanation.
Dunford's statement was echoed by another top U.S. military official, Secretary of the Air Force, Deborah James, who told Reuters one day earlier, "I do consider Russia to be the biggest threat."
The truth has never played much of a part in shaping U.S. public perception, and those who further this unhinged, psychopathic worldview are granted distinction and rewarded with high office.But let's not dismiss what Dunford et al are saying just yet. While they are clearly not being honest, there is a truth to what they're saying if we scratch the surface of the rhetoric.
Russian Foreign Minister Sergey Lavrov gave a hint of the hidden truth when he said that such statements are creating "an artificial atmosphere of hostility". "As far as the statements from Washington are concerned, we have already got used to the fact that the Department of Defense, Joint Chiefs of Staff Committee and the Air Force secretary regularly make statements that usually come from politicians," Lavrov said.
President Putin has also repeatedly exposed the Pentagon's manipulations. In June he stated, "I think that only an insane person, and only in a dream, can imagine that Russia would suddenly attack NATO. I think some countries are simply taking advantage of people's fears with regard to Russia."
When people like Dunford state that Russia is an "existential threat" to the USA, they allow their audience to assume that they are talking in military terms, but they are not. As President Putin said, Dunford and his ilk are merely repeating the words of politicians, and the "existential threat" to the USA is primarily political, not military, in nature. The American response to this threat is, however, decidedly military as it seeks to consolidate and expand its control in the same way it has always done: through wars, 'destabilization' and threats against sovereign nations.
While Russia has been building diplomatic ties and minimizing its global military presence, the United States continues with worldwide political and military aggression and manipulation. "We have dismantled our bases in various regions of the world, including Cuba, Vietnam, and so on," Putin said. "I invite you to publish a world map in your newspaper and to mark all the US military bases on it. You will see the difference."
Here is one such map: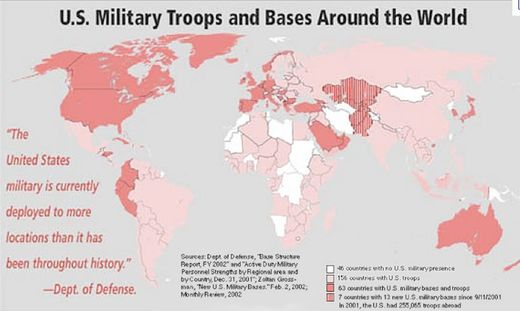 Foreign Policy in Focus estimates there are over 1000 US military bases in operation all over the world. On the basis of military expansion therefore, the greatest threat to world peace is by far the United States. FARS News Agency writes:
According to Lieutenant Colonel Robert Bockholt, a public affairs officer with US Special Operations Command, American forces are conducting black ops and shadow wars in 133 countries – roughly 70% of the nations on the planet. This capped a three-year span in which the country's forces were active in more than 150 countries, carrying out missions ranging from kill and capture raids to terrorist training exercises, wars and coups – with unforeseen blow backs and catastrophic consequences.
Dr. Jan Oberg, director of Sweden's Transnational Foundation, spoke to RT about Russia's military and compares to it the Unites States.
"Russia's military expenditures are 14% of the United States military expenditures and 8% of NATO." Oberg goes on to state, "41% of the world's military expenditures are from the United States. The United States at the same time is the most paranoid country that has to run wars all over the place."
Why does the US need such a massive military presence all over the world when US military spending dwarfs that of Russia?
The answer is that the political dominance of the US empire is achieved and safeguarded by military dominance, and it is that political dominance that is threatened by a strong and confident Russia. To put it another way, for US political and military officials to say that Russia poses an existential threat to the USA is akin to a schoolyard bully, who enjoys his position only as a result of his physical precociousness, saying that the natural growth in size and physical strength of other kids in his class poses an 'existential threat' to his rule of the yard.
US politicians dare not admit this truth; that the Russian government's exploitation of Russia's natural resources and efforts to establish close business relationships with other Eurasian nations is the 'existential threat'. Faced with Russia's forbearance and persistence in this regard, Washington's self-described 'reality creators' must resort to outright fabrication and slander in the form of statements about Russia's "imperial designs" and "military aggression" in an effort to terrify as much of the global population as possible into believing the lie.
Whether or not Russia is ultimately successful in its attempts to redress the imbalances in the global system is not the point. Just as one nation cannot be the cause of all the world's ills, one country cannot be the cure. Rather, Russia's vocal, public opposition to American foreign policy presents a vital opportunity to the people of the world to choose between two versions of reality: one based in the parasitic drive by psychopaths in Washington to control everything that moves, the other based in the desire of Russian government officials to highlight this injustice and create a more egalitarian world order. Only if a majority of the people of this world make that choice and choose wisely, is real change on a grand scale possible.
It is, and always has been, the threat of humanity awakened to the true nature of our world that poses the real existential threat to psychopaths in positions of power and those that ultimately control and shape our reality.
Co-authored with Shane LaChance. Originally published at Sott.net