St. Petersburg Metro Bombing, Syria Chemical Attack – Trump Folds to the 'Deep State'?


It's been an interesting few days in the world of geopolitically-relevant terror attacks and 'Trump vs. the Deep State' (both of which are far from mutually exclusive).
First we had the St. Petersburg attack where some young guy from Kyrgyzstan with no history of violence decided to detonate an IED on a train, killing himself and 14 innocent civilians. Russian police apparently found the DNA of Akbarzhon Jalilov, who had lived in Russia for a number of years, in the metro carriage where the explosion happened, and on a second unexploded device at another metro station. Of course, this doesn't mean that Jalilov acted alone or was the 'mastermind' of the atrocity. As I have hypothesized on several occasions, anyone naive or manipulatable enough to carry a backpack, given to them by someone else, to a specific location, can become an instant unwitting 'suicide bomber'.
So who might have been Jalilov's accomplices? According to the Western media, somewhere near the top of the list is Putin himself. The BBC had no problem in theorizing that the bombing was "some kind of attempt to distract attention from calls for a corruption investigation and calls for President Putin himself to step down…"
Oh really? Do go on, BBC correspondent. What exactly do you mean by the bombing being an "attempt to distract"? Are you really suggesting that a state (in this case, Russia) would go so far as to carry out a bombing that kills its own civilians and then frame a 'Muslim terrorist' for it in the interest of redirecting public attention towards some specific narrative? If so, that sounds like an outrageous conspiracy theory, and a dangerous one too. Much more talk like that and we might have to revisit the narrative around the 9/11 attacks, or the London or Madrid bombings!
New York Post columnist John Podhoretz echoed that sentiment by noting that it was "interesting that the bomb blasts in Petersburg come so hard upon the demonstrations."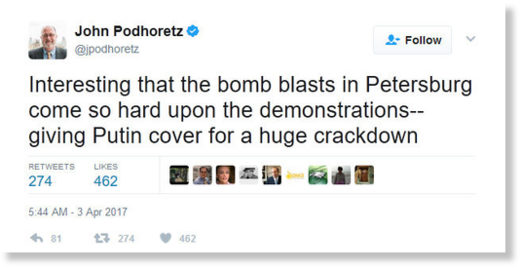 Meanwhile Sky News Diplomatic Editor Dominic Waghorn was more circumspect but still felt sure that the attacks would be used by the Russian government to crack down on 'anti-corruption' protests "given what we know about how the Russian authorities operate".
One day after the St. Petersburg attack, a 'chemical weapon' attack in Syria's northwestern Idlib province killed at least 70 people, including 10 children. The speed with which the US, British and French governments blamed the attack on Syria and called an emergency UN Security Council meeting to condemn Damascus and, by association Russia and Iran, and threaten unilateral military action against Syria would make anyone think they were just waiting for such an attack to happen, or even had prior knowledge. After all, in case anyone has forgotten, 'chemical weapon' attacks are the preferred casus belli of the US and its allies. First there was Saddam Hussein in 1990, and again in 2003 (both of which turned out to be false accusations). Then there was Syria in 2013 (also proven to be a false accusation) when a NATO bombardment of the country was narrowly averted by skillful Russian diplomacy.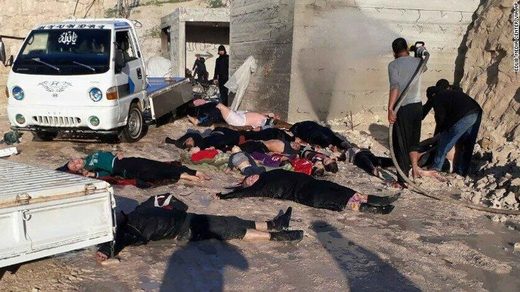 The Assad government has dismissed the accusations and blamed the West's best friends in Syria, aka the 'rebels' or 'nut-job jihadi mercenaries' (depending on how much of a realist you are). This appears to be a reasonable stance to take, given that (as noted) the last time the USA accused the Syrian government of attacking its own people with chemical weapons it was soon proven that the West's jihadi friends were responsible. On both the August 2013 attack in Ghouta and the Idlib attack this week, logic suggests that the Assad government would have nothing to gain and everything to lose from targeting Syrian civilians in such a flagrantly barbaric way. The 2013 attack occurred on the very same day that UN weapons inspectors arrived in the country to check Syrian chemical weapons stockpiles. If Assad wanted to be labeled a brutal dictator and gift NATO the justification to blow his country (and likely himself) to pieces, this would have been the best time and way to achieve it.
The same logic applies even more so to yesterday's attack. Assad is currently in the strongest position he has been during the 6 year-long Western attack on his rule and population. Why gift Western warmongers the justification to 'legitimately' bomb his country while achieving no military objective?
Trump in Deep Doo Doo with the Deep State
By all appearances, Donald Trump has been battling the 'deep state' in the USA since well before his inauguration. Nothing points more clearly to 'deep state interests' than when you see the Western press fall all over itself to force feed Western populations obviously fake Western 'intelligence dossiers'. We've had to endure months of nonsensical claims that 'Russia hacked the US elections for Trump' and Trump 'has ties to Russia'. It's so transparent what these people are attempting to do that it's amazing they haven't been laughed off planet by now. Then again, believing your own BS when your big fat paycheck depends on it makes your own BS particularly palatable, regardless of whether or not anyone believes you.
For a while Trump seemed to be holding out against this onslaught, but recently the 'deep state' representatives increased the heat, with Sen. Richard Blumenthal, D-Conn. openly anticipating a "constitutional crisis" involving the "looming" impeachment of Trump. Comparing the situation with Trump to Richard Nixon, who resigned in 1974 under threat of impeachment, Blumenthal said on Monday:
"The possibility of a Supreme Court needing to enforce a subpoena against the president of the United States is far from idle speculation. It has happened before in United States vs. Nixon"
Last week both the U.S. Ambassador to the U.N. Nikki Haley and Secretary of State Rex Tillerson said that the US would no longer focus on attempting to remove Assad:
"Our priority is no longer to sit there and focus on getting Assad out," Haley told a small group of reporters, according to Reuters.
"I think the .. longer term status of President Assad will be decided by the Syrian people," Tillerson told a joint news conference with Turkish Foreign Minister Mevut Cavusoglu, according to France 24.
Even The Donald has stated that the chemical weapon attack had changed his opinion on Syria and Assad, calling it (in classic US 'humanitarian intervention' style) an "affront to humanity…"
"My attitude toward Syria and Assad has changed very much … You're now talking about a whole different level. I will tell you that attack on children yesterday had a big impact on me – big impact. When you kill innocent children … that crosses many, many lines." – The Donald
This week, on the same day as Blumenthal's 'impeachment' comment, St. Petersburg was bombed and the Western press blamed Putin. The next day the Syria chemical weapon attack occurred. The following day the Trump administration (Nikki Haley representing) went full warmonger on Syria and Russia at the UN and Trump did a 180 on Syria. Today Steve Bannon was booted from the National Security Council.
And you thought there was no 'deep state' in the USA.