Loony Toons Arrive In New York: Netanyahu's Speech at the UN 2012
Well, what can I say. It was HI-LAIR-EE-OUS! The same tired old bullshit that a kindergartener could figure out, the "clash of civilizations" spiel, the encouragement to "be afraid, be VERY afraid".
Here are a few choice quotes:
"Radical Islam wants to end the modern world".
(For a bunch of CIA-funded mercenaries, that's a pretty tall order).
Or how about this one:
"The future of the world is at stake. If you want to know what a nuclear armed Iran would be like, just imagine a nuclear armed al-qaeda."
So eh, did I miss the news that 'al-qaeda' (the CIA's database of mujahedin fighters) has now obtained a nation state of its own and successfully enriched enough uranium and acquired the parts to build a nuclear bomb? Wow, that afternoon nap I took was longer than I thought!
But my favorite part was Netanyahu's cartoon bomb picture. This was a stroke of genius, after all, people love pictures, they convey the message so much better than boring old words and facts, and on that score, Bibi really needed a picture.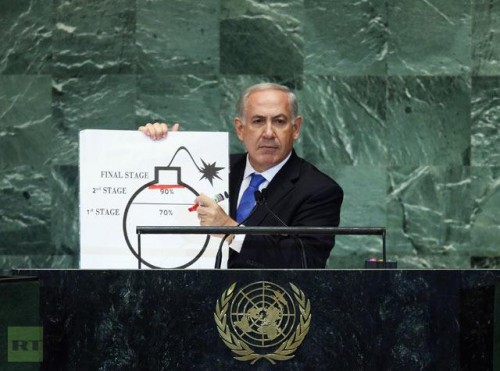 My sources have informed me that the diagram presented by Netanyahu was a modified version of an original, more accurate diagram. Here's the original: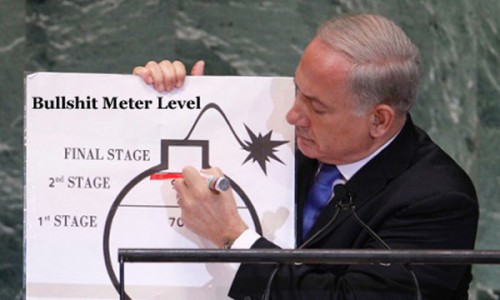 Now I understand what Bibi is trying to do here, and I applaud him, but I can't help think that he could have used an image from Iranian president Ahmadinejad's speech at the UN one day previously. After all, it's far more damning…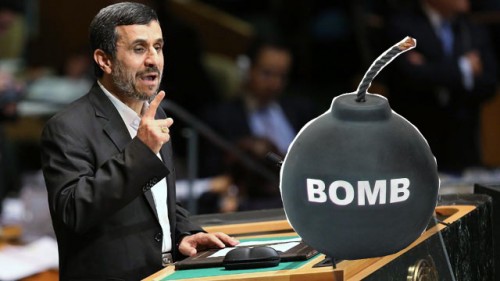 When I first saw Netanyahu's diagram, I had a vague recollection of having seen something similar before. Then it hit me: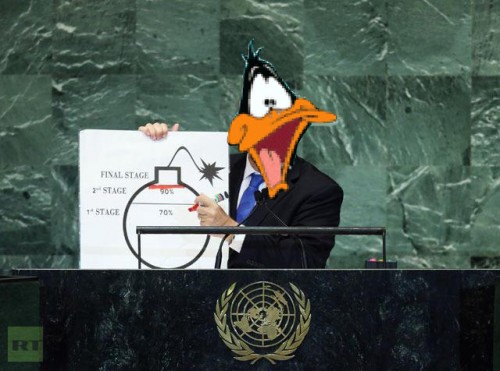 Being serious for a moment (I know it's hard given Bibi's farce); Bibi really shot himself in the foot with this one. Then again, that's to be expected from a psychopath. Such deviant individuals generally end up over-extending themselves because they can't fathom that there is a limit to the bullshit that ordinary people will believe.