Israel Encourages Palestinian Rocket Attacks
When a people that have been dispossessed of their land, livelihoods and homes, periodically murdered and regularly terrorized, take action to resist and defend themselves, they are guilty of nothing but standing up for their human rights and their rights under international law.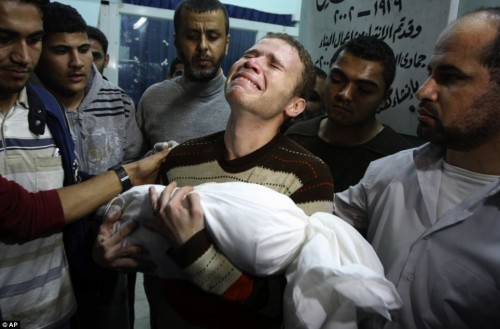 Yesterday, Wed. 14th Nov. 2012 Israel launched the latest in a long line of "Operations" that stretch back over 60 years aimed at terrorizing the people of Palestine. By naming the attack 'Operation 'pillar of cloud" the Israeli military was unambiguous about its intent: to blow up as much of Gaza and as many Palestinians as they saw fit.
Why do Palestinians fire rockets into Israel? The vast majority of them, and I mean the VAST majority either miss their target or make a small hole in the ground far from their intended target. The rocket attacks appear to serve only as justification for the Israeli military to attack Gaza and murder Palestinians. So what's the point?
The point is that the rocket attacks are the Palestinians ONLY way of protesting against the 60 year long occupation of their land responding to unprovoked Israeli attacks against and murder of Palestinian civilians. Think about that. The Palestinians have no option to appeal to the international community because no one listens. They have zero chance of the Western media applying pressure to halt Israeli aggression and redress Palestinian grievances because the Western media is unashamedly biased towards Israel.
The Palestinians have two choices: they can sit quietly by and allow the IDF to arbitrarily and summarily murder them, or they can fire primitive rockets at the closest targets inside Israel and hope that they make the Israeli government think twice. But even here the Palestinians have a problem:Â  the Israeli government welcomes the firing of Palestinian rockets into Israel, and they periodically provoke it.
'Nonsense!' I hear you say. 'Why would the Israeli government want to provoke Palestinians to attack Israelis?'Â  The state of Israel was born out of and has prospered ever since on the basis of there being a threat to its existence. Israel wields massively disproportionate power around the world, especially in Western nations and the USA, largely because it is surrounded by Arab nations that are the target of the "war on terror" being waged by the American Empire and its pusillanimous partners.
The war on terror is, of course, a cover for a war of acquisition of the natural resources of many of those Arab nations, and Israel has always acted as Western nation's garrison in the Middle East, tasked with the job of ensuring that the Middle East remains unstable and therefore controllable. In fact, the establishment of the state of Israel on land belonging to Middle Eastern Arabs and the long-standing conflict that has resulted, has been the method via which Western governments have ensured the instability of the Middle East. It is much easier to sell Western military intervention and political meddling in a region of the world that is "in conflict" than if it were peaceful and stable. The fact that Western nations themselves are the cause of the 'conflict' is apparently of little importance or relevance.
The fact of the matter is that, if the state of Israel had been established in Kenya or Madagascar for example, it would undoubtedly have evolved to play a role in world politics commensurate with its population i.e. a largely insignificant one. But today, Israeli governments via their infamous Israel lobby in Washington, are able to manipulate large sections of all three of the United States Executive branches. Read Mearsheimer and Walt's 'The Israel Lobby and US Foreign Policy' for the hard facts on this.
Over the past few days, the massively pro-Israel Western media and politicians have been subtly and not-so-subtly blaming the Palestinians for provoking the latest violence during which 17 Palestinians (and counting) have been killed and over 100 injured. Among the Palestinian dead were an 11-month-old baby and a woman pregnant with twins. This is compared to 3 Israelis killed and 7 injured. For example, UK Foreign Secretary William Hague stated:
"Hamas bears principal responsibility for the current crisis. I utterly condemn rocket attacks from Gaza into southern Israel by Hamas and other armed groups. This creates an intolerable situation for Israeli civilians in southern Israel, who have the right to live without fear of attack from Gaza,"
Apparently the intolerable situation for the 1.5 million Palestinians in Gaza who are regularly murdered by the Israeli military and confined to a open air prison pales in comparison to the plight of the 24,000 Israeli inhabitants of towns like Sderot who are subject to the homemade, sugar-fueled rockets that wobble their way from Gaza  and which generally land harmlessly far and wide of their targets.
But my point is not to make judgements on the relative value of the lives of Palestinian or Israeli civilians (even if the difference in levels of suffering and death is clear). My point is that the Israeli government is to blame for ALL such deaths and suffering.
The truth is that the latest round of violence (like so many previous round of violence) was clearly and deliberately provoked by the Israeli government and military.
The Western media would have us believe that Israeli attacks on Gaza are always in retaliation to Palestinian rocket fire into Israel. This is not true, and it is not true of the latest violence. The firing of rockets from Palestine into Israel usually only occur in response to Israeli aggression.
On 29 October the BBC reported that "Militants in Gaza have fired 26 rockets into Israel, officials say, amid a flare-up in fighting which shattered a brief ceasefire between the two sides. No injuries were reported from the barrage, in the south of the country." The BBC said that, "It came hours after Israeli aircraft hit targets in Gaza, after militants fired rockets following the killing by Israel of a Gazan who Israel said fired mortars at its troops."
On 4 November, Israeli forces shot dead "an unarmed, mentally disabled man" who made the mistake of walking too close to  an Israeli-imposed "buffer" area inside the occupied Gaza Strip. So the Israelis shot dead a mentally retarded man because he was walking inside the open air prison that the Israelis have allowed the Palestinians to call home.
On 8 November, the Israeli military invaded the Gaza Strip near al-Qarara villlage northeast of Khan Yunis and fatally injured a child. According to the Palestinian Centre for Human Rights (PCHR):
They leveled areas of Palestinian land amidst indiscriminate shooting. A few hours later, they moved southwards to 'Abassan village. They opened fire indiscriminately and leveled areas of Palestinian land. An Israeli helicopter gunship also opened fire at the area. At approximately 16:30, as a result of the indiscriminate shooting by IOF [Israeli occupation forces] military vehicles, 13-year-old Ahmed Younis Khader Abu Daqqa was seriously wounded by a bullet to the abdomen. At the time he was shot, Ahmed had been playing football with his friends in front of his family's house, located nearly 1,500 meters away from the area where the IOF were present.
The child subsequently died of his injuries.
In response, on 10 November, Palestinian resistance fighters attacked an Israeli army jeep near the boundary with Gaza, injuring 4 Israeli soldiers and fired several rockets into Israel.
Following this, Israel attacked civilian neighborhoods in Gaza. In the ensuing 72 hour period, Israeli forced killed 7 Palestinians. According to PCHR, five of the dead were civilians, including 3 children. Fifty-two others, including 6 women and 12 children were wounded.
"Four of these deaths and 38 of the injuries resulted from an Israeli attack on a football playground in al-Shoja'iya neighborhood east of Gaza City," PCHR reported.
On Nov. 13th, Reuters reported:
"After five days of mounting violence, Israel and the Palestinians stepped back from the brink of a new war in the Gaza Strip on Tuesday, sending signals to each other via Egypt that they would hold their fire unless attacked."
The report added:
Ismail Haniyeh, prime minister of Gaza's Hamas government, praised the main armed factions in the enclave for agreeing on Monday night to a truce. "They showed a high sense of responsibility by saying they would respect calm should the Israeli occupation also abide by it," he said.
Then, yesterday, Israel summarily executed Hamas military chief Ahmad al-Jabari. Reuters noted that the Israeli attack "appeared to end a 24-hour lull in cross-border violence that surged this week."
The Israeli government has a LONG history of deliberately breaking cease-fires with Palestinians in order to provoke Palestinian response and then justify Israeli mass murder of Palestinians.
For example, two months before the 2008-2009 Israeli 'Cast lead' operation that resulted in the mass murder of 1400 Palestinians, most of them civilians and 400 of them children, Israel broke a five-month-long ceasefire with Hamas on November 4th, 2008 by assassinating six Hamas officials in Gaza. Further proof of Israeli cynicism was the report that the 'Cast Led' attack on Gaza was planned six months previously.
I noted above that the firing of rockets from Palestine into Israel usually only occurs in response to Israeli aggression. Now and again, rockets are fired from Palestine and no one seems to know who was responsible.
Hamas blames 'Israeli collaborators' for launching rockets

Albawaba.com
Sun, 12 Oct 2008

The Hamas rulers of Gaza Strip on Tuesday lashed out at gunners who fire rockets at Israel from the Palestinian territory in violation of a seven-week-old calm, calling them Israeli collaborators. "About the rocket-firing, I think those who are responsible are those who collaborate with Israel because there is a consensus by all Palestinian groups to respect the truce," said Dr. Mahmud Zahar, a senior leader of the Hamas movement.

On Monday, a rocket fired from the Gaza Strip landed in an empty field outside the southern Israeli city of Sderot, causing no casualty or damage.

According to AFP, Zahar told a Gaza radio station that the party which fired the rocket was "linked to Israel as they provide a pretext to exercise pressure on the Palestinian people."
And from 2006:
Confusion in PA: Who launched Qassam?

Ynet
27/11/2006

There has been general confusion in the Palestinian Authority after a Qassam rocket was fired from the Gaza Strip into the western Negev. One of the cells of the al-Aqsa Martyrs' Brigades, Fatah's military arm, has taken responsibility for the firing.

However, Abu Ahmad, one of the group's senior officials in the northern Gaza Strip, said to Ynet that he had no knowledge that his people carried out the shooting.

"As of now, we continue to be committed to the truce, but are reserving our right to respond to Israeli infractions," said Abu Ahmad.
Speaking of Israeli collaborators:
Palestinians arrest al-Qaeda 'poseurs'

December 8 2002

Palestinian security forces have arrested a group of Palestinians for collaborating with Israel and posing as operatives of Osama bin Laden's al-Qaeda terrorist network, a senior official said yesterday.

The arrests come two days after Israeli Prime Minister Ariel Sharon charged al-Qaeda militants were operating in Gaza and in Lebanon.

"The Palestinian Authority arrested a group of collaborators who confessed they were working for Israel, posing as al-Qaeda operatives in the Palestinian territories," said the official, on condition of anonymity.

He said the alleged collaborators sought to "discredit the Palestinian people, justify every Israeli crime and provide [Israel with] reasons to carry out a new [military] aggression in the Gaza Strip."
Sixty some years ago very similar scenes to those Palestine and Gaza over the past ten years were playing out in Germany and Poland, and the then Nazi government urged Western citizens to accept it all as necessary and justified. Many people then accepted and condoned the Nazi atrocities, and many more turned a blind eye.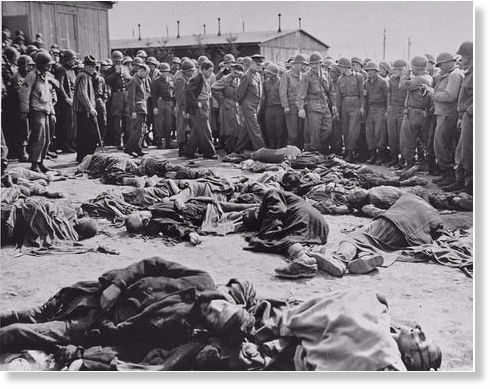 You are probably bored of being reminded that 'those that do not learn from history are doomed to repeat it', or that history really does repeat itself. But you should remember that history only repeats itself when the people of this world sit back and wishfully think that this time things will be different. The Nazis massacred millions of people over a twelve-year period from 1933 to 1945. WWII (which claimed the lives of 65 million people) was ignited by an act of brutality very similar in nature to the Israeli actions in Palestine.
The ideological descendants of the bankers, political leaders, military men and global geopolitical strategists that financed, pursued and profited from that last "great" war are today sitting in Tel Aviv, Washington and London with mass murder and mayhem once again on their minds.So let us not allow history to repeat itself, yet again, by permitting the clearly psychopathic morality of our political leaders to be passed off as "freedom and democracy" or a "just fight" against some manufactured foe. Let us, if only with our collective conscious awareness, resist the blatant crimes against humanity and massacring of the innocent that is taking place in Gaza. And let us remember the core issue and injustice that must be addressed before Israel's right to exist can ever be recognised: