David Icke and the 'Evil Magician'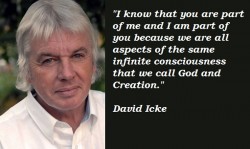 The problem with the new age concepts peddled by people like David Icke, who tell us things like "we are all infinite consciousness", is that such canned spiritual concepts are no different from mainstream religious dogma that has been offered up for mass consumption for centuries.
Has anyone noticed that, despite the noble and 'spiritual' teachings of mainstream religions, and despite the fact that a majority of human beings adhere to one or other of these religions, the moral or spiritual life of human beings on this planet has NOT improved in any tangible way? In fact, you may have noticed that our collective moral compass can point in many different directions depending on who happens to be reading it. The result is a pretty immoral modern world where respect for human life is at a historical low.
The so-called 'spiritual' teachings of the world's religions, including the 'new age', are fatally flawed because they do not teach people HOW to achieve the lofty spiritual goals or 'transformations of consciousness' that they preach. In fact, they tend to teach us how to NOT achieve them by urging us to keep chasing our tails by just 'believing'.
What religions, mainstream and 'new age' teach is analogous to Gurdjieff's story of the evil magician, where the evil magician, faced with the problem of his sheep escaping because they saw their fellow sheep being periodically killed and eaten, hypnotizes the sheep into believing that they are not sheep but lions, eagles and even humans. As a result, any time the sheep saw another sheep being killed for the magician's breakfast, they no longer tried to escape because, after all, they were not sheep. In this way the evil magician maintained a compliant food source.
The point being that, when David Icke or your local priest tells you that you are "pure consciousness" or "a child of god", and that all you have to do is recognise this to become it, they are lulling you into a false sense of spirituality. Simply telling yourself that you are spiritual or spiritually evolved or that you are 'going to heaven' because you believe it, achieves nothing except ensuring that you will do nothing to truly evolve because you believe you are already there.
The evil magician's sheep were still sheep, despite what he made them believe about themselves. The only way that the sheep were ever going to have a chance of true evolution, which is by definition a spiritual evolution to something beyond the crass physicality-oriented lives we all lead, was if they were able to recognise the TRUTH of their situation: that they were mere sheep, being preyed upon by the magician, and that he was deliberately deceiving them with lofty words and notions so that he could continue to keep them in a state of stasis so that he could exploit them.
So the point is this: any human that desires to engage in the process of true and meaningful evolution must begin by taking stock of where he/she is at, of his/her limitations, biases, prejudices, wrong beliefs, personal disfunctionality and 'issues', 'programs' that he/she runs. In short, we must recognise the state of our being as IT IS, so that we can identify the flaws and blockages that prevent us from achieving those lofty states that so many charlatans tell us we have already attained, and work on those blockages to true evolution first.
That's it, it's the 'work on the self'. Not so lofty perhaps, not much 'you're a special diamond', but rather, you may become one, if you're willing to face the objective reality, both within yourself and in the world 'out there'.
Gurdjieff's Evil Magician

"There was an evil magician. He lived deep in the mountains and the forests, and he had thousands of sheep. But the problem was that the sheep were afraid of the magician because every day the sheep were seeing that one of them was being killed for his breakfast, another was being killed for his lunch. So they ran away from the magician's ranch and it was a difficult job to find them in the vast forest. Being a magician, he used magic.

He hypnotized all the sheep and suggested to them first of all that they were immortal and that no harm was being done to them when they were skinned, that, on the contrary, it would be very good for them and even pleasant; secondly he suggested that the magician was a good master who loved his flock so much that he was ready to do anything in the world for them; and in the third place he suggested to them that if anything at all were going to happen to them it was not going to happen just then, at any rate not that day, and therefore they had no need to think about it.

He then told different sheep…to some, "You are a man, you need not be afraid. It is only the sheep who are going to be killed and eaten, not you. You are a man just like I am." Some other sheep were told, "You are a lion — only sheep are afraid. They escape, they are cowards. You are a lion; you would prefer to die than to run away. You don't belong to these sheep. So when they are killed it is not your problem. They are meant to be killed, but you are the most loved of my friends in this forest." In this way, he told every sheep different stories, and from the second day, the sheep stopped running away from the house.

They still saw other sheep being killed, butchered, but it was not their concern. Somebody was a lion, somebody was a tiger, somebody was a man, somebody was a magician and so forth. Nobody was a sheep except the one who was being killed. This way, without keeping servants, he managed thousands of sheep. They would go into the forest for their food, for their water, and they would come back home, believing always one thing: "It is some sheep who is going to be killed, not you. You don't belong to the sheep. You are a lion — respected, honored, a friend of the great magician."

The magician's problems were solved and the sheep never ran away again.'"