The Murder of Jamal Khashoggi: Oil, Sanctions And The Anti-Trump Establishment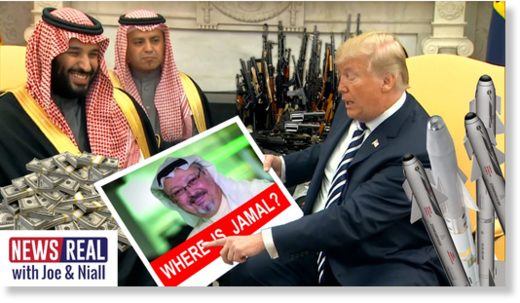 Jamal Khashoggi, who disappeared from the Saudi embassy in Istanbul 2 weeks ago and is presumed dead, is (or was) a Saudi journalist and author. His grandfather (of Turkish origin) married a Saudi woman and served as the personal physician to King Abdulaziz Al Saud, the founder of the kingdom of Saudi Arabia. He is the nephew of the late, high-profile Saudi arms dealer Adnan Khashoggi, known for his part in the Iran-Contra scandal, and his cousin was Dodi Fayed, Princess Diana's paramour when the two were likely assassinated in a deliberate car crash in a Paris tunnel in 1997.
Khashoggi was a member of the Muslim Brotherhood, an organisation that he praised in his recent columns in The Washington Post, along with the 'moderate rebels' in Syria. The Muslim Brotherhood exists to rid the Muslim world of Western influence and its adherents aspire to instil the Quran and the Sunnah as the "sole reference point for ordering the life of the Muslim family, individual, community and state". The only difference between Muslim Brotherhood members and radical Islamic Wahhabists is that the former is willing to accept some form of democracy in their political system.
During the late 1980s and 1990s Khashoggi was employed by the Saudi intelligence services (and allegedly US forces) in Afghanistan. It is claimed that he was an advisor to the former head of Saudi intelligence Prince Turki Al Faisal, who resigned from that position just ten days before the 9/11 attacks. Khashoggi befriended Osama bin Laden in Afghanistan and Sudan and supported his jihad against the Soviets in his newspaper articles. He interviewed bin Laden several times and met with him in Tora Bora, and Sudan in 1995. Khashoggi was, therefore, the only non-royal Saudi who knew of the royals' intimate dealings with al-Qaeda in the lead-up to the 9/11 terror attacks. But no one should think that Khashoggi was a mere disinterested journalist. Below is a picture of him (top left with RPG on shoulder) with the Afghani Mujahedin, in a newspaper article he wrote himself.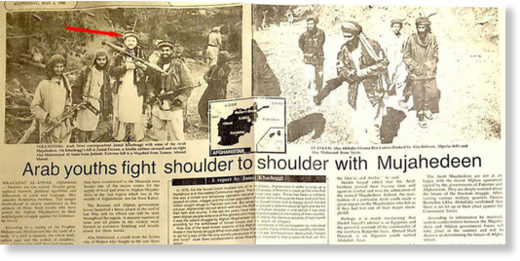 In March 2003, Khashoggi became the editor-in-chief of the Saudi daily Al Watan. Less than two months later however, he was fired by the Saudi ministry of information because he had allowed a columnist to criticize the Islamic scholar Ibn Taymiyya, considered the founding father of Wahhabism. Two years later, when his former mentor Prince Turki was appointed Saudi Ambassador to the USA in 2005, Khashoggi became his media aide.
In April 2007, Khashoggi again began to work as editor-in-chief for Al Watan. But in May 2010 he allegedly resigned "to focus on his personal projects", although there was speculation that he was forced to resign due to Saudi government displeasure at articles published in the paper that were critical of the Kingdom's harsh Islamic rules.
After 2010 Khashoggi maintained ties with Saudi elites, including those in its intelligence apparatus. In 2015 he launched the satellite news channel Al-Arab, based in Bahrain outside Saudi Arabia, as the country does not allow independent news channels to operate within its borders. The news channel was backed by Saudi billionaire Prince Alwaleed bin Talal, and partnered with US financial news channel Bloomberg Television. But the channel was on air for less than 11 hours before it was shut down by Bahrain. Khashoggi was also a political commentator for Saudi and international channels, including MBC of South Korea, BBC, Al Jazeera and Dubai TV.
In December 2016, a report in the Middle East Eye said Khashoggi had been banned by Saudi Arabian authorities from publishing or appearing on television "for criticising US President-elect Donald Trump."
In September 2017, Khashoggi fled Saudi Arabia after the Saudi government banned him from Twitter, where he had almost 2 million followers. He moved to the USA where he began writing for the CIA's paper of record, The Washington Post. Since then, he has written articles that harshly criticized the Saudi government and crown prince, Mohammad bin Salman, and the country's King Salman. He also opposed the Saudi Arabian-led intervention in Yemen and, earlier this year, established a new political party called Democracy for the Arab World Now (DAWN), which was viewed by Crown Prince Mohammed as a threat to his rule.
Jamal Khashoggi, a prolific writer and commentator, was working quietly with intellectuals, reformists and Islamists to launch a group called Democracy for the Arab World Now. He wanted to set up a media watch organization to keep track of press freedom.

He also planned to launch an economic-focused website to translate international reports into Arabic to bring sobering realities to a population often hungry for real news, not propaganda.

Part of Khashoggi's approach was to include political Islamists in what he saw as democracy building.
…
Khashoggi had incorporated his democracy advocacy group, DAWN, in January in Delaware, said Khaled Saffuri, another friend. The project was expected to reach out to journalists and lobby for change, representing both Islamists and liberals, said another friend, Azzam Tamimi, a prominent Palestinian-British activist and TV presenter.
Khashoggi's moves in this direction, undoubtedly with the help of intelligence types and other 'interested parties' in the USA, was an understandable concern for MBS and co. 'Democracy-promotion' is, after all, how Westerners (specifically, the CIA) organize dissidents for overthrowing foreign regimes.
On 2 October 2018, Khashoggi was seen entering the main door of the Saudi Arabian consulate in Istanbul to obtain a document proving that he was divorced. This document would allow him to marry his fiancée, Hatice Cengiz, a Turkish citizen, who waited outside. By 4 PM, Khashoggi had not appeared despite the fact that office hours of the consulate were until 3:30 PM. His fiancée reported him missing when the consulate closed. While the Saudi government claims that he had left the consulate via a back entrance, Turkish authorities have said that CCTV cameras prove he did not.
Turkish police believe that Khashoggi was tortured and killed inside the Saudi consulate in Istanbul by a 15-member team brought in from Saudi Arabia for the operation. One anonymous police source claimed that the dead body was chopped to pieces and quietly moved out of the consulate, and that all of this was "videotaped to prove the mission had been accomplished and the tape was taken out of the country".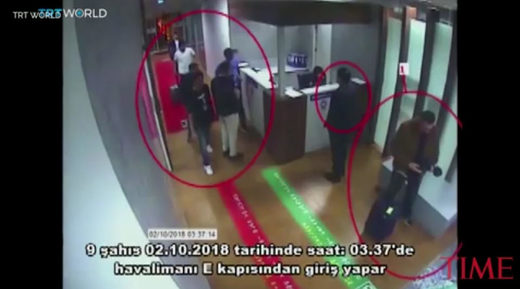 US intelligence officials recently told The Washington Post (coincidentally) that they have been presented with these video and audio recordings of the murder inside the consulate in Istanbul. The recordings allegedly capture the moments before and during what they described as Mr Khashoggi's violent death.
The Saudi government (like most of its Western allies) has a long track record of killing (including by crucifixion) or 'disappearing' people they do not like.
Luring dissidents to meetings to "disappear" them is a common ruse used by authorities in Saudi Arabia, a prince from the Middle Eastern kingdom said, before revealing that at least five royals have vanished in the last week alone for speaking out against the disappearance of journalist Jamal al-Khashoggi.
If the official Saudi government wanted to get rid of someone like Khashoggi, killing him in a Saudi embassy in Turkey would be the most high-profile, self-defeating, and therefore very worst, way to do it. Khashoggi's disappearance and likely demise is therefore, unlikely to be the work of the Saudi regime under MBS. There are many members of the 'House of Saud' who may have a grudge against MBS and who maintain close contacts with Western intelligence agencies. These same people would have easy access to the diplomatic passports used to gain entry to the embassy in Turkey, order the staff to leave, and do away with Khashoggi, leaving the blame to fall, naturally, on the official Saudi government.
In this respect, the murder of Khashoggi calls to mind the way in which high-profile Russian citizens (including journalists who were critical of the Russian government) have been killed on foreign soil, with the blame left to fall, naturally, on the Russian government, and Vladimir Putin himself (as some ignoramuses would have it). The murder of Khashoggi is more or less a carbon copy of this type of manipulative operation.
King Salman released a statement today hinting at some form of political intrigue behind the event: he emphasized the strength of Riyadh's relationship with Ankara and "stressed that no one could undermine their relationship."
But if that is the case, whoever pulled this off has done a fine job implicating MBS. Turkish journalists have posted headshots of the 15-man team alleged to have been responsible, and claim to have identified several of them:
According to this Twitter account, "Out of the 15 names @Sabah published, so far it seems there are 2 doctor officers, 2 intelligence officers, 2 pilots, and 8 of the 15 are Royal Guards, 6 of them from MBS's office and his closest circles." The Saudi media apparently insist they were all just tourists.
So either MBS is truly mad, sending members of his own coterie to carry out essentially a public assassination and receive all the bad press that obviously follows, or someone has made a strong effort in using people close to him to implicate him.
As for Trump, the grisly, high-profile murder comes at a very bad time. Trump and US Republicans are (supposedly) facing a tough midterm fight next month, one day after oil sanctions on Iran kick in on Nov. 4th. In order to avoid an oil crisis and a massive jump in oil prices, Trump needs the Saudis to gradually increase their oil output and keep gasoline prices reasonable, so as not to antagonize the U.S. motorist driving to the polls – at least that's the theory offered by Jim Krane, energy geopolitics fellow at Rice University's Baker Institute. Of course, higher oil prices don't just mean higher prices at the pump, but higher costs for US manufacturing, increased inflation and a reduction in economic growth.
Under the US Magnitsky Act, the US is supposed to impose sanctions against any country involved in extra-judicial killings (I know, 'pot-kettle-black'). In recent days, top senators on the Foreign Relations Committee have asked Trump to impose sanctions against anyone found responsible for Khashoggi's fate. In the case of Saudi Arabia, the obvious choice would be oil sanctions, to which the Saudis would not react well – they threatened to respond to sanctions with oil prices reaching "$100, or $200, or even double that figure", pricing barrels in currencies other than the US Dollar, and "over 30" other responses to be implemented "directly, without flinching an eye". Yeah, the Saudis know bluster just as well as Trump.
This could possibly scupper Trump's plan for Saudi help in successfully embargoing Iranian oil, and would put his (and Jared Kushner's) cushy relationship with MBS on ice, not to mention those $$billions in arms sales. Is this a good enough reason for Trump's 'deep state' enemies to play a role (if only through their contacts in Saudi Arabia) to organize the public murder of Khashoggi? To 'sour' the relationship between Trump and MBS and give him a major Middle Eastern problem? Is the US 'deep state' at a point where they are willing to 'regime change' their long-term and vitally important Middle East ally? If we look to the opinion of raging anti-Trumper John Brennan on the murder of Khashoggi, the answer seems to be 'yes'.
I am confident that U.S. intelligence agencies have the capability to determine, with a high degree of certainty, what happened to Khashoggi. If he is found to be dead at the hands of the Saudi government, his demise cannot go unanswered – by the Trump administration, by Congress or by the world community. Ideally, King Salman would take immediate action against those responsible, but if he doesn't have the will or the ability, the United States would have to act. That would include immediate sanctions on all Saudis involved; a freeze on U.S. military sales to Saudi Arabia; suspension of all routine intelligence cooperation with Saudi security services; and a U.S.-sponsored U.N. Security Council resolution condemning the murder.
But while MBS may be facing a direct challenge to his rule, he can be confident that he is not entirely bereft of friends:
Khashoggi and the Jewish question

Eran Lerman, the vice president of the Jerusalem Institute for Strategic Studies and a former deputy national security council head, said: "It is certainly not in our interests to see the status of the Saudi government diminished in Washington."
…
Lerman envisions a scenario where Jewish political organizations in Washington – such as the American Jewish Committee, which he once worked for as head of its Israel office – may actually go to Capitol Hill, as they have done in the past, and discreetly lobby for the Saudis, something that could paradoxically bring the two countries even closer together.
Whatever the truth about who killed Jamal Khashoggi, his death and the context in which it happened leaves no doubt that he was missing many pieces of the puzzle and found out too late that he was just another pawn in a much larger and increasingly dirty game of global geopolitics.