Would The Real War Criminals Please Stand Up
>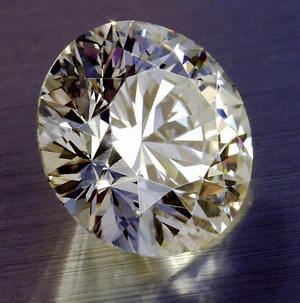 Diamonds are a spooks best friend
Charles Taylor, Liberian President for 6 years until 2003, is currently on trial for international war crimes at a U.N.-backed special court in the Hague. Those that facilitated his crimes will not be there.
Taylor seized the presidency in 1998 after an appalling eight-year campaign of terror. Taylor is accused of orchestrating rape, murder, mutilation and recruitment of child soldiers during the 1991-2002 civil war in neighboring Sierra Leone.
Some of the harrowing testimony has been provided by Alex Tamba Teh. Teh claims that he saw a rebel commander from Liberia called "Rocky" shoot 101 people:
"After he killed the civilians… he gave the instruction that they should be decapitated. Rocky gave the order to the small boy units"
Tamba Teh recounted how child soldiers rounded on one child and chopped off his hand, then his arm, then both his feet, before tossing him into a toilet pit. In all somewhere between 75,000 and 200,000 Sierra Leoneans were killed (estimates vary) with many more suffering mutilations and around 2 million left homeless.
[Today Sierra Leon's shy teenagers] show you their scars and explain that RUF rebel commanders cut them and rubbed cocaine into the wound to make them mad enough to fight or to chop people's limbs off. Sometimes the victims were their neighbours, or their brothers and sisters.

"They gave us drugs the whole time," says Saidu, 16, who was abducted and recruited into the RUF when he was five. First, he worked as a bearer and messenger for the soldiers' "wives", most of whom were themselves abducted adolescent girls. When he was seven he was given a gun, a couple of months' training in Liberia, and sent to fight.

"It was fun, like a big boy's game," he says. "They made us so crazy, we enjoyed the smoking, the drinking, the shooting, all that." He didn't enjoy having to cut a man's arm off, though, one morning on the road in from the airport. They were all lined up at gunpoint, the men, shaking, their arms obediently held out. Saidu couldn't look when it was his turn to swing his machete. He doesn't think the man survived. "I can't forget his scream," he says.
The civil war in Sierra Leon was fought over control of the lucrative diamond mining trade with the neighboring nations of Guinea and Liberia deeply involved. In 1991 a small band of men calling themselves the Revolutionary United Front (RUF) under the leadership of a former-corporal, Foday Sankoh, began to attack villages in eastern Sierra Leone on the Liberian border. The RUF's signature terror tactic was physical mutilation. An estimated 20,000 civilians suffered amputation, with machetes and axes being used to sever arms, legs, lips, and ears. Over the course of the next 12 years a series of coups and counter-coups followed with the British, who ruled Sierra Leon as a colony until 1961, choosing to do little but observe the bloodshed, until the UN chose to enforce a relative peace in 2003 which still holds.
Foday Sankoah created the RFU with substantial support from Liberian leader Taylor who remained one of the primary antagonists throughout the conflict. In that respect, the current proceedings against him are indeed justified, but the evidence that will be undoubtedly missing from his trial concerns the claims of former Washington Post West African Bureau chief Douglas Farah. In 2004 Farah published Blood From Stones: The Secret Financial Network of Terror detailing the ties between "al-Qaeda" and diamond networks in West Africa. Farah is also a senior fellow at the National Strategy Information Center, a "right-wing think tank for military strategy with a history of working with hard-line, anti-Soviet groups promoting an aggressive U. S. foreign policy", according to Group Watch.
In 2004 the news web site AllAfrica.com conducted an interview with Farah on the 9-11 Commission findings, the interaction between "al-Qaeda" and West Africa's diamond trade, and his view of the role U.S. intelligence has played. Excerpts from the Allafrica article and interview follow with my emphasis:
West Africa: Debate Over al Qaeda's Connection to West Africa's Diamond Trade Takes New Turns

August 5, 2004
AllAfrica.com

Washington Post correspondent Douglas Farah, in a recently published 225-page book entitled "Blood from Stones: The Secret Financial Network of Terror," provides a detailed description of al Qaeda's activity in West Africa.

According to Farah, American intelligence agencies "overlooked" the connection between diamond trading and al Qaeda and the central role played in harboring and profiting from the illicit dealing by Liberian President Charles Taylor, who was forced into exile in Nigeria last year under a deal brokered by the U.S. government.

Farah's findings have been hotly disputed by the CIA and FBI, and their viewpoint was reflected in the recently release report of the National Commission on Terrorist Attacks Upon the United States, also known as the 9-11 Commission. "We have seen no persuasive evidence that al Qaeda funded itself by trading in African conflict diamonds," the report states (page 171).

But a confidential investigation by the Sierra Leone Special Court further bolsters the view that that the alliance between Taylor and al Qaeda was substantial, according to an article in Wednesday's Boston Globe by Washington correspondent Bryan Bender.

"Al Qaeda allegedly paid Taylor for protection and then joined him in the African diamond trade, raising millions of dollars for terrorist activities, according to UN war crimes documents," Bender wrote.

Citing the Special Court's investigation and U.S. intelligence official, Bender said a planned raid a few weeks after September 11, 2001 by U.S. Special Forces aimed at capturing Ghailani and an associate in Liberia was called off for unexplained reasons. One explanation raised by Bender's sources was Taylor's reported longstanding relations with the CIA.
In 2002 the Washington Post reported that European intelligence agencies had found evidence that Taylor hosted "senior terrorist operatives" who oversaw a $20 million diamond-buying spree that effectively cornered the market on the region's precious stones, receiving a $1 million payment for his help. Senior European intelligence sources were however "baffled" by the lack of U.S. interest from the CIA in these findings.
AllAfrica: What is your reaction to the single sentence in the 9-11 Commission report that dismisses African diamonds as a source of al Qaeda funding?

Farah: If you look at the footnotes of that particular citation, it's all FBI and CIA reports with the exception of an interview they quote with Allan White from the Special Court in Sierra Leone. I find it disturbing because they had access to the Belgium police report, which I have on my website, which they were given. The Special Court also wrote a special brief to them and the intelligence indicating al Qaeda's presence. The book, the Global Witness Report – none of those are cited as having been used at all in making their determination.

I think the 9-11 Commission was under a great deal of pressure to make hurried judgments. In my limited communication with them, they told me that they could not get to the bottom of the dispute. If you read my book, I have a lot of discussion of why the CIA tried to discredit the story, and the great lengths that they went to do so, despite the fact that they did not succeed, and the fact that more evidence continues to emerge [that] the story is actually correct. But there is a great hostility towards the story from the intelligence community, and all the commission did was take the intelligence community reports and use them as their basis for making their assertions.

AllAfrica: The 9-11 Commission also stated "to date, we have not been able to determine the origin of the money used for the 9-11 attacks?" How do you respond to that?

Farah: The proof of the telephone contacts to Afghanistan on September 10th and the prior communications from the Belgium police who traced the phone call from the satellite phone used by Aziz Nassour and Samih Osailly [two al Qaeda operatives whose activities in west Africa are detailed in Farah's book] is not hearsay evidence. They made numerous calls and it's documented. I have the phone bills for them, and more importantly, the police got them out of the official records. I do not think it's something you can easily dismiss. Neither are the bank records from Artesia Bank that show $20m flowing and being unaccounted for, and all the other indications that other people came up with. […]

AllAfrica: Alex Yearsley of Global Witness asserts that, "Taylor received CIA payments until January 2001." You write about dealings between the CIA and Ibrahim Bah, the Senegalese mastermind who coordinated the diamond trade with al Qaeda. Why would the CIA form this kind of partnership?

Farah: It's a disturbing question. I do not have direct knowledge myself of the CIA dealings with Taylor. Taylor has told others and me that he has worked for the CIA over time.

AllAfrica: You write that the diamond trade in Africa transcends ideological and religious differences. Could you please talk more about the business dealings between Israeli and Lebanese merchants in West Africa?

Farah: […] I think it's one of the truly extraordinary demonstrations of the depth to which people will sink in their greed for diamonds. It's the epitomy of the worst kind of greed and corruption of moral principles. They come with the desire to make money at any cost. What both the Arabs and Israelis told me was, 'Business is business. Here we do business. Back there is war and back there is not our problem.' If you look at Lebanese with ties to radical Islamists trying to buy weapons with Israelis to ship [elsewhere], it's a web that is very complicated, very difficult to understand, and very hard to believe unless you see it and talk to people yourself.
As Farah states, all of it is certainly very disturbing, and his comment that "it's a web that is very complicated, very difficult to understand" is indeed true but the web is made infinitely more complex and becomes impossible to understand when, as appears to be the case with Farah, the conclusions that the data points to conflict with the lies fed to us by our governments and the mainstream media. Lies like the one that says that the CIA and other Western intelligence agencies are fighting a "war against terror" when the reality is that they are waging a war of terror on the entire planet.
Lies like the one that says "al-Qaeda" is an Islamic terror group when in fact it is just a name given by Western governments to a fictitious group that is used to take the blame for terrorist attacks carried out by Western intelligence agencies (Mossad, CIA, MI5).
Lies like the claim that the US, Israeli and British governments and their agencies are doing everything they can to stamp out "Islamic terrorism" when in truth they have for many years been actively creating a false reality of "Islamic terrorism" which they use as a cover for their own illegal and murderous activities around the world.
Charles Taylor is currently being tried in the Hague for war crimes in Sierra Leon that were financed in part by the diamond trade. It is something of an irony that not 40 miles to the south of the Hague sits the Belgian city of Antwerp where 90 percent of the world's diamonds are cut and polished by the city's large Hasidic Jewish community. Surely the court in the Hague could find a few answers to the real source of the Sierra Leon tragedy there?
But I digress, in fact I have been digressing since the second paragraph. What I really wanted to say as regards Charles Taylor's ongoing trial for war crimes is that I have a question that I need someone to answer, and it is a very pressing question indeed:
Charles Taylor is being tried by an international war crimes tribunal because he is responsible for sending an army into another nation in the pursuit of personal gain and in doing so causing the deaths of tens of thousands of innocent people. If the moral standards by which Taylor is being measured are just and fair, why then are George Bush, Dick Cheney, Donald Rumsfeld, Paul Wolfowitz and a host of other Neocons and Israel-firsters (both in the US and in Israel) not waiting in line behind him?
The Bush government, at the behest of their Israeli friends and with the complicity of their British lackeys, also sent an army into another country in the pursuit of personal gain and in doing so caused the deaths of not tens of thousands but hundreds of thousands of innocent people.
The following is but a tiny fraction of the massive evidence for US government war crimes in Iraq:
'I saw the heads of my two little girls come off'

April 2 2003
Smh.com.au

An Iraqi mother in a van fired on by US soldiers says she saw her two young daughters decapitated in the incident that also killed her son and eight other members of her family.

The children's father, who was also in the van, said US soldiers fired on them as they fled towards a checkpoint because they thought a leaflet dropped by US helicopters told them to "be safe", and they believed that meant getting out of their village to Karbala.

Bakhat Hassan – who lost his daughters, aged two and five, his three-year-old son, his parents, two older brothers, their wives and two nieces aged 12 and 15, in the incident – said US soldiers at an earlier checkpoint had waved them through.

As they approached another checkpoint 40km south of Karbala, they waved again at the American soldiers.

"We were thinking these Americans want us to be safe," Hassan said through an Army translator at a Mobile Army Surgical Hospital set up at a vast Army support camp near Najaf.

The soldiers didn't wave back. They fired.

"I saw the heads of my two little girls come off," Hassan's heavily pregnant wife, Lamea, 36, said numbly.

She repeated herself in a flat, even voice: "My girls – I watched their heads come off their bodies. My son is dead."

US officials originally gave the death toll from the incident as seven, but reporters at the scene placed it at 10. And Bakhat Hassan terrible toll was 11 members of his family.

'US soldiers started to shoot us, one by one'

Survivors describe wedding massacre as generals refuse to apologise

Rory McCarthy in Ramadi
Friday May 21, 2004
The Guardian

The wedding feast was finished and the women had just led the young bride and groom away to their marriage tent for the night when Haleema Shihab heard the first sounds of the fighter jets screeching through the sky above.

It was 10.30pm in the remote village of Mukaradeeb by the Syrian border and the guests hurried back to their homes as the party ended. As sister-in-law of the groom, Mrs Shihab, 30, was to sleep with her husband and children in the house of the wedding party, the Rakat family villa. She was one of the few in the house who survived the night.

"The bombing started at 3 am," she said yesterday from her bed in the emergency ward at Ramadi general hospital, 60 miles west of Baghdad. "We went out of the house and the American soldiers started to shoot us. They were shooting low on the ground and targeting us one by one," she said. She ran with her youngest child in her arms and her two young boys, Ali and Hamza, close behind. As she crossed the fields a shell exploded close to her, fracturing her legs and knocking her to the ground.

She lay there and a second round hit her on the right arm. By then her two boys lay dead. "I left them because they were dead," she said. One, she saw, had been decapitated by a shell.

"I fell into the mud and an American soldier came and kicked me. I pretended to be dead so he wouldn't kill me."

U.S. soldier poured kerosene on raped, slain Iraqi

One of the U.S. soldiers accused of raping and killing a 14 year-old Iraqi girl and slaying her family told investigators that after the killings he poured kerosene on the girl's bullet-ridden body.

In an interview with the U.S. Army's Criminal Investigative Division in June, Spec. James P. Barker, 23, said that he held the girl down while she was raped by another soldier, Sgt. Paul Cortez, during an incident in March in Mahmoudiya, according to testimony from CID Special Agent Benjamin Bierce.

Barker said that he then attempted to rape the girl himself, before she was shot to death by former Pfc. Steven D. Green, Bierce said.
For the last five years the US government and military have waged a war on the Iraqi people that dwarfs the Sierra Leon conflict in terms of its mindless brutality. The people of Sierra Leon, while traumatised for years to come, are at least enjoying relative peace – the people of Iraq continue to suffer bombings, mutilations and the predations of US soldiers on an almost daily basis. Can we therefore expect the American, Israeli and British war criminals to appear in the dock in the Hague any time soon? If not, why not?
There is something VERY wrong with this world.