More Sandy Hook Nut Jobbery – Emilie Parker
Watch this short Youtube video which the author states is "absolute proof Sandy Hook was staged":
Are you convinced? Well hang on, I'm about to provide fairly convincing proof that the person who made this video, and all those who promote similar fantastical, subjective nonsense about Sandy Hook, have a serious problem when it comes to critical thinking:
This particular hysterical internaut fades Emilie Parker's face from the family photo over the face of Emilie's sister in the picture with Obama. He does this in such a way that is looks like the two faces are a perfect match.
They aren't.
Here are the two faces: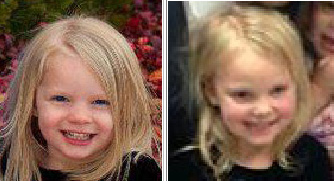 The two girls look alike, I don't dispute that, although I would suggest that they look alike because they are sisters with less than one year between them, according to their father.  I know, it's totally bizarre that two young girls from the same parents would bear a resemblance to each other. But there it is.
But wait! There's more.
The Parker family photo was provided by Mr. and Mrs. Parker for media use in the aftermath of the massacre. That family photo is likely to be several months old, perhaps even a year old. The photo of the second daughter with Obama however is from December 16th 2012.
Now, let's think about this. What happens to young girls when time passes? That's right, they grow up and look a little older. If the family photo is about 1 year old, that would put the second daughter in the Obama photo at about the same age as Emilie was when she had her photo taken with the family.
But hang on a minute! The second daughter appears to be wearing the same dress that Emilie was wearing in the family photo! Indeed, and I can see the headlines now:
Shock! Horror! Family gives eldest daughter's dress to younger daughter when eldest daughter outgrows it! […]
Even more shocking! Two days after daughter's murder, family decides to dress second daughter in dress that first daughter used to wear (which had already been passed to second daughter anyway) as a way of remembering her!
I'll leave it at that. If anyone has any more delusional Sandy Hook nonsense from members of the internet nutjob fringe, feel free to pass them along for debunking. I think I've seen them all by now. Other than that, my recent article pretty much deals with the real evidential problems with the Sandy Hook massacre.